AllSides
AllSides is a knowledge-centered tool that aims to expose media bias in news articles on trending topics (e.g., in 2022, trending topics included COVID-19, 2022 Elections, Economy and Jobs, and Russia-Ukraine Conflict). AllSides rates media bias from a left, center, and right point of view. It encourages individuals to critically examine media and make it easier to see how left-, center-, and right-leaning media outlets use text and images in different ways to inform and persuade the public. It is a great tool for promoting constructivism in and outside of the classroom for students (and the general public). AllSides provides a media bias chart that can be useful for a variety of media literacy activities and critical analysis in classrooms. AllSides is a great tool for promoting critical thinking, better judgment, knowledge, and educative dialogues.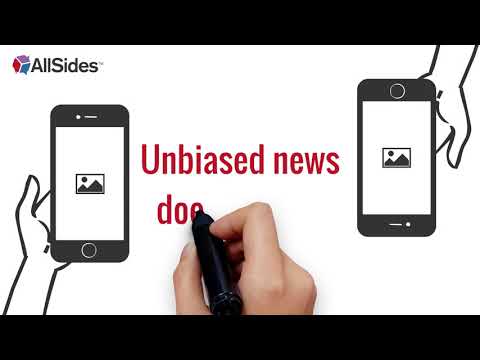 Watch on YouTube

https://edtechbooks.org/-XLki
Tool Snapshot
| | |
| --- | --- |
| | Free; Sustaining Membership (ranges from $49-$199 per year) |
| Learning | |
| Ease of Use | ★★★★✩ |
| | ★✩✩✩✩ |
| Accessibility | ★★★✩✩ |
| Class Size | Unlimited |
| Login Required | No |
| | Knowledge Constructor |
| COPPA/FERPA Compliant | AllSidesl is not designed for minors and therefore AllSides doesn't abide by COPPA |
Price
AllSides offers free membership to the general public. However, if you desire a membership, then the price will depend on the contribution level you decide to donate to AllSides. These price ranges typically range from $49.00 to $199.00.
Type of Learning
AllSides offers a constructivist approach to learning by encouraging students to enhance their knowledge about different topics by actively reading, interpreting, and making their own judgments based on different politically leaning news articles.
Ease of Use
AllSides earned a rating of four stars for ease of use, because of how manageable it is to choose articles and access different sites. When learning about AllSides and how to navigate its system can be overwhelming and confusing, because of the number of advertisements and articles presented on its main page. However, it takes about five minutes to learn how to navigate the tool and access different resources within the tool. AllSides offers a FAQ that is focused on answering the questions and/or concerns that arise when using the site. Featuring a space in which individuals can express their concerns and/or questions makes their experience much more enjoyable. AllSides provides a brief overview video explaining how its website it's organized.
Privacy
AllSides was given a rating of one star for its privacy since it has failed to protect its guests, and children using the website, and it is not COPPA/FERPA compliant. AllSides states throughout their privacy policy that they are collecting personal information from their users. It does not matter if you are signed in with your member account or signed as a guest. The online tool fails to protect the privacy of its younger users. It does not provide the best wording on its children policy, therefore leaving it up to parents to approve whether they want their information to be given away to third parties and AllSides. They are not complying with the regulations of COPPA that are stated on their website. For more information about their privacy and children's protection, it can be useful to visit "Privacy Protections for Children Using the Internet". AllSides does have a section for California residents in which it has all the information for California Privacy Notice.
Accessibility
AllSides earned a three-star rating after testing, researching, and using the online accessibility checker for tools and apps. AllSides does not offer an accessibility statement on its website. Some of the images on their website were missing alt text or had descriptions that were difficult to read or followed along. When I conducted the no-mouse challenge, I was able to navigate the site with my keyboard with ease. Overall, Allsides has the potential for great improvement by fixing broken links, and alt text images, and adding an accessibility statement.
Class Size
The class size for AllSides is unlimited since any student can access the site on their device.
Login
AllSides does not require a login to use the site. If you have a membership - paid or free membership - then you would have to login with your email/username and password.
ISTE Standards
Knowledge Constructor is one of the main ISTE Standards for Students that AllSides aligns with. Students can construct knowledge about different topics and then use this knowledge to make their own judgments and develop their own perspectives on a variety of subjects.
AllSides Online Tool Video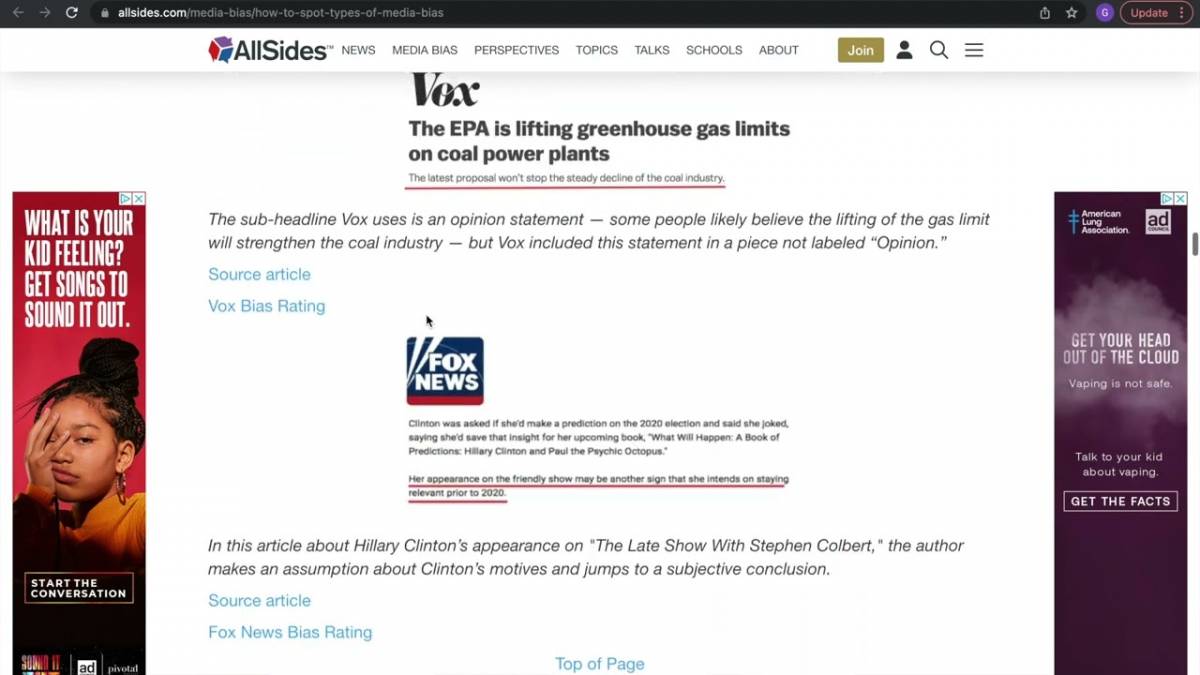 **AllSides Online Tool Video Transcript**
AllSides & the SAMR Model
Dr. Ruben Puentedura's SAMR model offers a lens for examining how technology is adopted in a classroom. As you strive to incorporate online tools into your classroom, we encourage you to use this model as an analytic tool.
Substitution: Students can search for climate change news by using AllSides instead of media, such as newspapers, television, and/or radios.
Augmentation: Students can find climate change articles with left-, center-, and right-leaning perspectives with ease, all within the same site.
Modification: Students use the AllSides Media Bias Chart to evaluate the perspective and bias in user-generated content about climate change on Youtube.
Redefinition: AllSides serves a similar function as other media outlets such as newspaper and television news, with some added functionality like the ability to see left-, center-, and right-learning articles about the same topic all together on the same page. However, given the limited nature of the site, it does not seem that it can redefine teaching and learning.
AllSides Learning Activities
English
Students can compare and contrast the similarities in bias that are presented in real-life media and novels that have been read and discussed in class.
Science
Students will use AllSides to analyze the ways in which the issue of climate change is approached from a left, center, and right perspective.
Social Studies
Evaluate how media such as newspapers, social media, television, and other sources portrayed men and women leaders differently. Reflect on historical events that had a significant impact on how these two groups might be presented differently to the general public. At least three articles should be gathered from AllSides.
Analyze the effects of media bias in society and history.
Other
Engage students in dialogues and discussions with left, center, and right perspectives from specific topics and articles from AllSides.
Create informational videos about a specific issue using articles from AllSides.
Resources
How to Use AllSides
Go to www.allsides.com.
Use the search bar to find specific tools.
Once a topic has been entered, it will bring you to a page in which you can select AllSides or web news articles. Once you have selected where you want the news source to come from, select the article most appropriate for your goal.


Scroll down to find a variety of articles from a left, center, or right perspective.


Each article will have a small box indicating its perspective and level:


Use the three lines on the top right to access different resources. The lines contain categories with subdivisions to make it easier to look for your needs
Scroll down to the bottom of the webpage to access: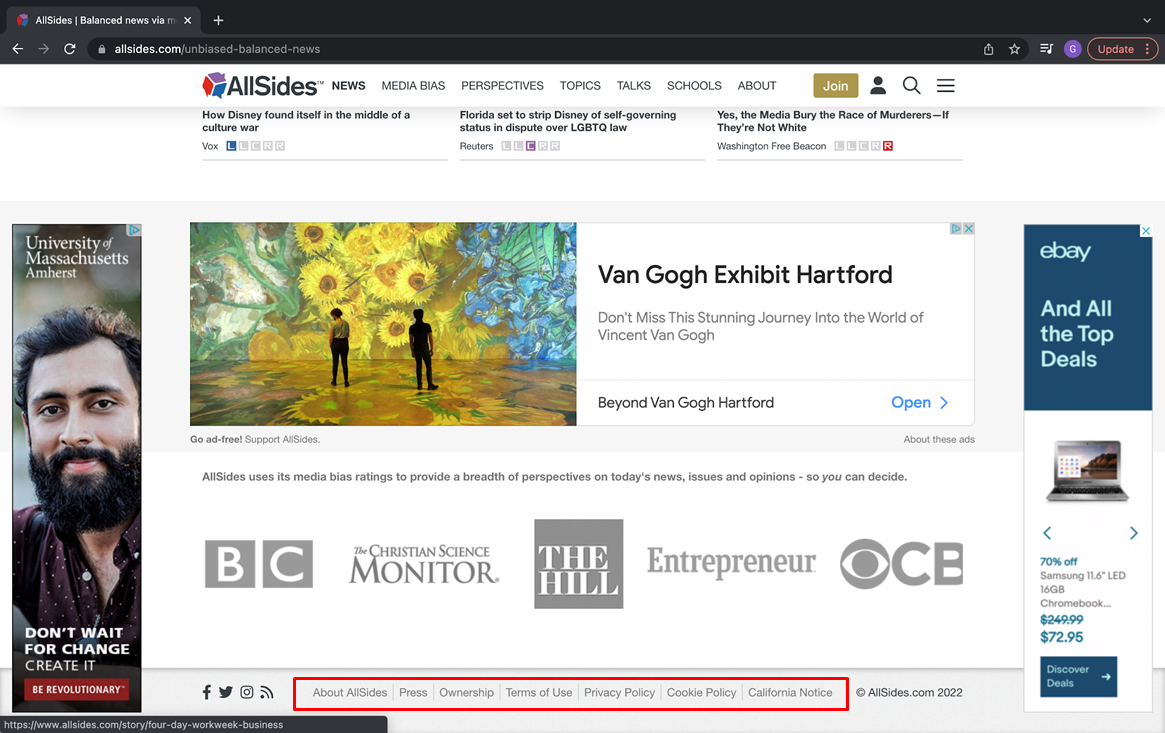 Research
Aggarwal, S., Sinha, T., Kukreti, Y., & Shikhar, S. (2020). Media bias detection and bias short-term Impact assessment. Array, 6, 100025. https://doi.org/10.1016/j.array.2020.100025
Gearhart, S., Moe, A., & Zhang, B. (2020). Hostile media bias on social media: Testing the effect of user comments on perceptions of news bias and credibility. Human Behavior and Emerging Technologies, 2(2), 140–148. https://edtechbooks.org/-gLH
Author
This page was created by Gabriela Rodriguez Lopez.
CC BY-NC: This work is released under a CC BY-NC license, which means that you are free to do with it as you please as long as you (1) properly attribute it and (2) do not use it for commercial gain.
End-of-Chapter Survey
: How would you rate the overall quality of this chapter?
Very Low Quality
Low Quality
Moderate Quality
High Quality
Very High Quality
Comments will be automatically submitted when you navigate away from the page.
Like this? Endorse it!